Geothermal Replacement, Geothermal HVAC Service & Geothermal Repair

Nassau, DE, Harbeson, DE, Delmar, MD, Lewes, DE, Fruitland, MD & Salisbury, MD
Geothermal Heating & Cooling Services Near You
Coastal Comfort Heating & Air Conditioning is your premier geothermal service provider in Salisbury, Rehoboth Beach, and surrounding areas. Family owned and locally operated, we take pride in green solutions to temperature control, and there is no comparison to geothermal HVAC. Utilizing the free, renewable energy source found underground, geothermal heat pumps achieve a 400% efficiency rating, maintaining ideal year round comfort while minimizing impact on the environment and your wallet.
As a Carrier Factory Authorized Dealer, Coastal Comfort Heating & Air Conditioning specializes in the latest energy-saving innovations. Our factory-trained, NATE- and EPA-certified technicians customize design to suit your specific needs, handle each stage of the project to uncompromising standards, and meet your goals with exceptional quality of equipment and workmanship.
Geothermal System Installation in Pittsville, MD | Geothermal Repair Salisbury, MD
Along with free estimates on new installations, we include a one-year maintenance plan and stand behind every job with a 100% Satisfaction Guarantee. Coastal Comfort Heating & Air Conditioning resolves every challenge with a full range of geothermal services and 24/7 emergency repair throughout Pittsville, Salisbury, Delmar, Fruitland, Hebron, MD, Rehoboth Beach, Lewes, Nassau, Harbeson, and Ocean View, DE. Setting the Standard in Customer Service Since 2005.
Call today to learn more about our geothermal HVAC installations, repairs & maintenance!
While startup costs for geothermal heat pumps exceed conventional HVAC options, the many benefits quickly recover the investment. Benefits include:
Save up to 60% on heating bills
Save up to 50% on cooling costs
Indoor components lasts approximately 25 years
Ground loop lasts upwards of 50 years
Low in maintenance
No onsite combustions and no emissions of carbon monoxide or other greenhouse gases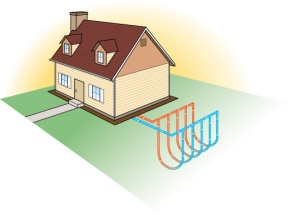 Coastal Comfort Heating & Air Conditioning is the lead installer of closed loop high-efficiency geothermal systems on Delmarva. At Coastal Comfort, we work with the leading well installation company to bring the most innovative and efficient system. The Carrier Geothermal system boasts a 10-year parts and labor warranty so you can't go wrong with this energy saving heating and cooling system! Additionally, with the renewal of the Federal Tax Credits, there has never been a better time to go green with geo.
How Geothermal HVAC Works
Geothermal heating and cooling uses the constant group temperature below the earth's surface to efficiently heat and cool. Conventional air source heat pumps use the outside air temperatures. However, they can range from sub-zero cold in the winter to scorching hot in the summer. The average ground temperature for the Eastern Shore of Maryland & Delaware is around 57 +/- degrees. By using the median ground temperature, geothermal heat pumps can save you thousands of dollars on home energy usage over the system lifetime.
While the initial installation cost of Geothermal heat pumps is higher than a conventional air source heat pump, there are many incentives to help offset the cost.
Current Geothermal Incentives
26% Federal Tax Credit
Manufacturer Rebates
Delmarva Power Rebates
State of Maryland Grants
With the help of these incentives, a homeowner could have a return on their geothermal installation in as little as 5 years.*
* Return on investment varies on eligibility for incentives and all incentives are subject to approval. Please ask for more details.
Closed Loop Systems
A system of 2 or more wells containing plastic tubing that is buried in the ground. The loops contain an antifreeze solution. A heat exchanger transfers heat between the refrigerant and the antifreeze solution.
Vertical Loops
The wells are drilled about 11 feet apart, the holes are approximately 4 inches in diameter, and the depth varies from 100- 400 feet. The vertical loops are connected with a horizontal manifold placed in trenches and are connected to the heat pump in the building.
---
View Our Other Services
Geothermal System Installation

∴

Geothermal Maintenance ∴ Delmar, MD ∴ Pittsville, MD ∴ Rehoboth Beach, DE